Last Updated on December 27, 2022
A social media strategy, specifically with respect to Instagram, is absolutely essential these days for any personal brand or business.
With that said, for many business owners and managers it can be difficult to either find the time to grow your instagram account, or simply figure out the best strategy to use.
In this article, I will walk you through some of the best Instagram growth services on Fiverr – the perfect place to begin your search for help.
What are the best Instagram growth promotion services?
Below you'd find our list of the best Instagram growth services to try this year:
s3ncillom3dia – Best Overall Instagram Growth Service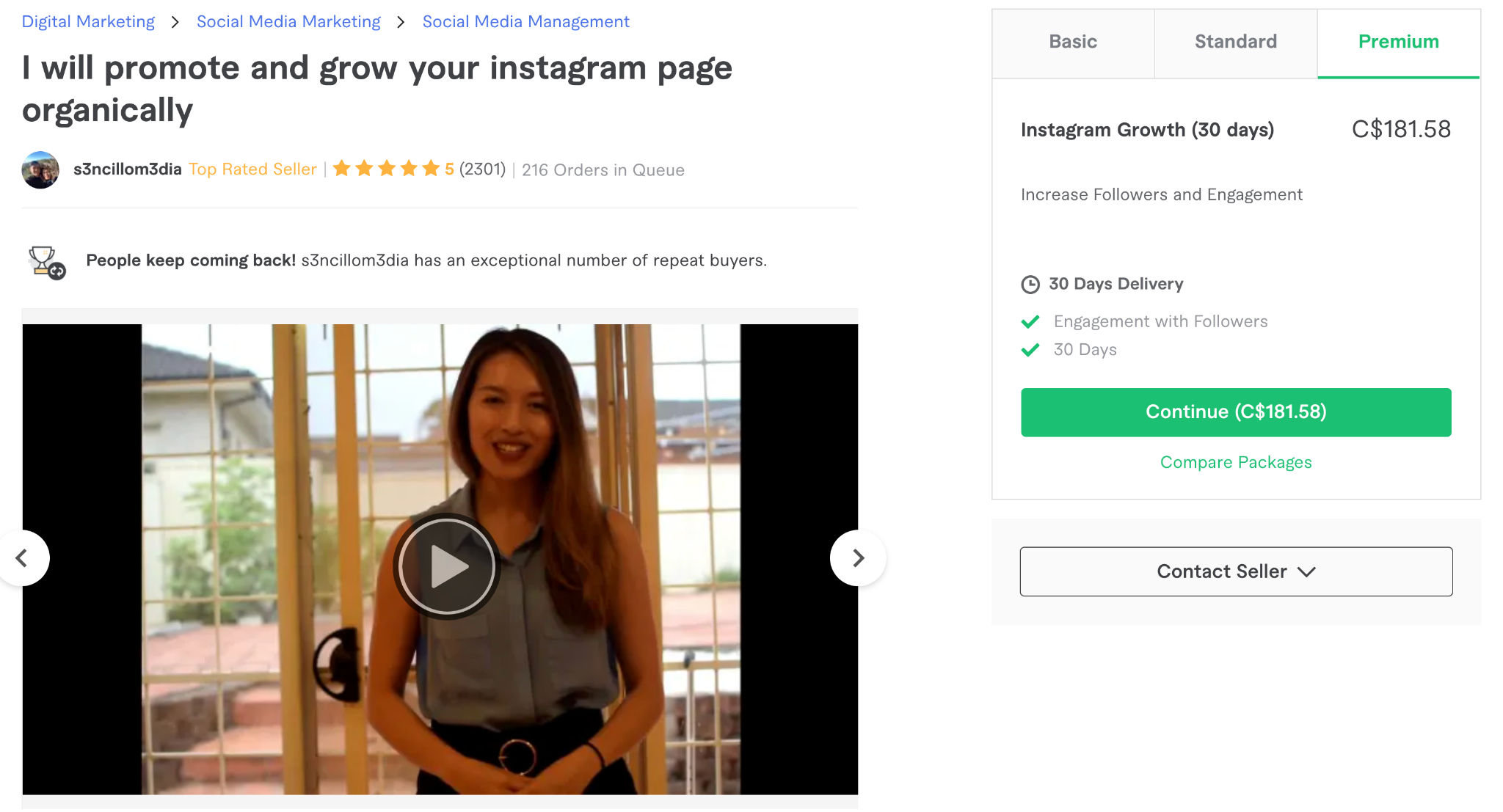 This superstar couple, "Bee and Dee" are professional digital marketers from Australia, and have been providing one of the best Instagram growth services on Fiverr since 2019. They have built up such a strong client base and have become one of the most popular gigs in the digital marketing category.
They've earned over 2200 5-star reviews for this gig alone, and even have a Fiverr note on their profile saying "People keep coming back! … [they have] an exceptional number of repeat buyers." Clearly they're work lives up to the hype.
They primarily work with Personal Brand accounts and Business accounts, and they promise the ability to organically grow these types of accounts by 100-700 followers per month.
Their strategy is simple – follow people as defined by the client's target market, engage with them, and unfollow if they don't engage back. Sounds easy, but there is a reason why people trust Bee and Dee to take care of this so that they don't have to.
They have 3 plans to choose from – each is simply defined by the timeline with which they will grow your accounts, 15, 20, and 30 days respectively.
With over 200 orders in queue as writing this article, people are literally waiting in line for Bee and Dee's services. Check out their profile and hire them before it's too late!
seospecialist08 – High-Quality Images for Daily Posts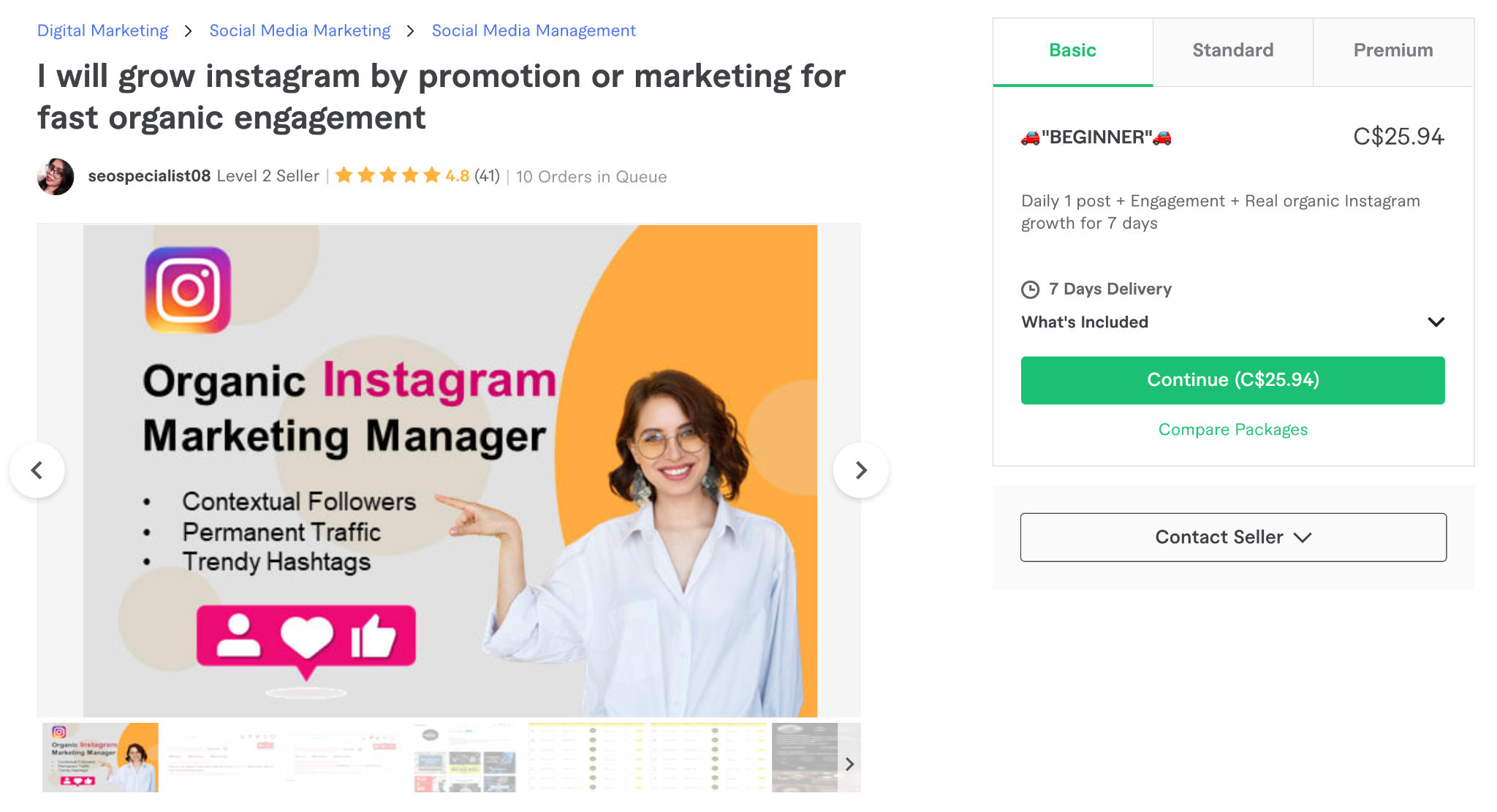 Borsha is a professional digital marketer, an experienced SEO specialist, and a social media marketer from Bangladesh. She has been selling on Fiverr since July of 2020 and has a Level Two seller badge and almost 50 5-star reviews to show for it.
Borsha specializes in growing her clients' Instagram engagement with organic promotion and marketing. She ensures positive engagement and a permanent audience through her work.
How does she do it? Well, she creates high-quality images for daily eye-catching posts, she researches and implements appropriate hashtags, engages with followers resulting in more comments, likes, and follows, and she provides her clients with excel reporting so they can stay up-to-date with her progress.
She offers her clients 3 package options to choose from. One that consists of one post per day and 7 days of follow up engagement, another with 2 posts per day with 14 days follow up engagement, and the last with 3 posts per day and 21 days follow up engagement.
Borsha's strategy is simple, but according to her clients, it works. If your interest is sparked, check out her profile here for more!
ba_dum_tss – His Username is Great, But His Work is Greater
Well, I'm tempted to let his username speak for itself, as I think it's just hilarious, but let me tell you a bit more about this seller.
He's from Serbia. He's been selling on Fiverr since the summer of 2020. Ba_dum_tss is a Pro seller, meaning his work has been vetted by Fiverr for quality and service. And he has earned over 20 5-star reviews for his work.
Again, the safe and effective strategy of following, engaging, and unfollowing ghost followers will be employed by this seller. All he requires from his clients is a list of competitors and relevant hashtags, and access to their Instagram profile username and password.
Organic growth is guaranteed – without the use of 3rd party software or bots.
Three plans are available to you. One which will grow your account over 14 days, another for 30 days, and another, also for 30 days, but with liking and commenting engagement included. Check out his profile for more!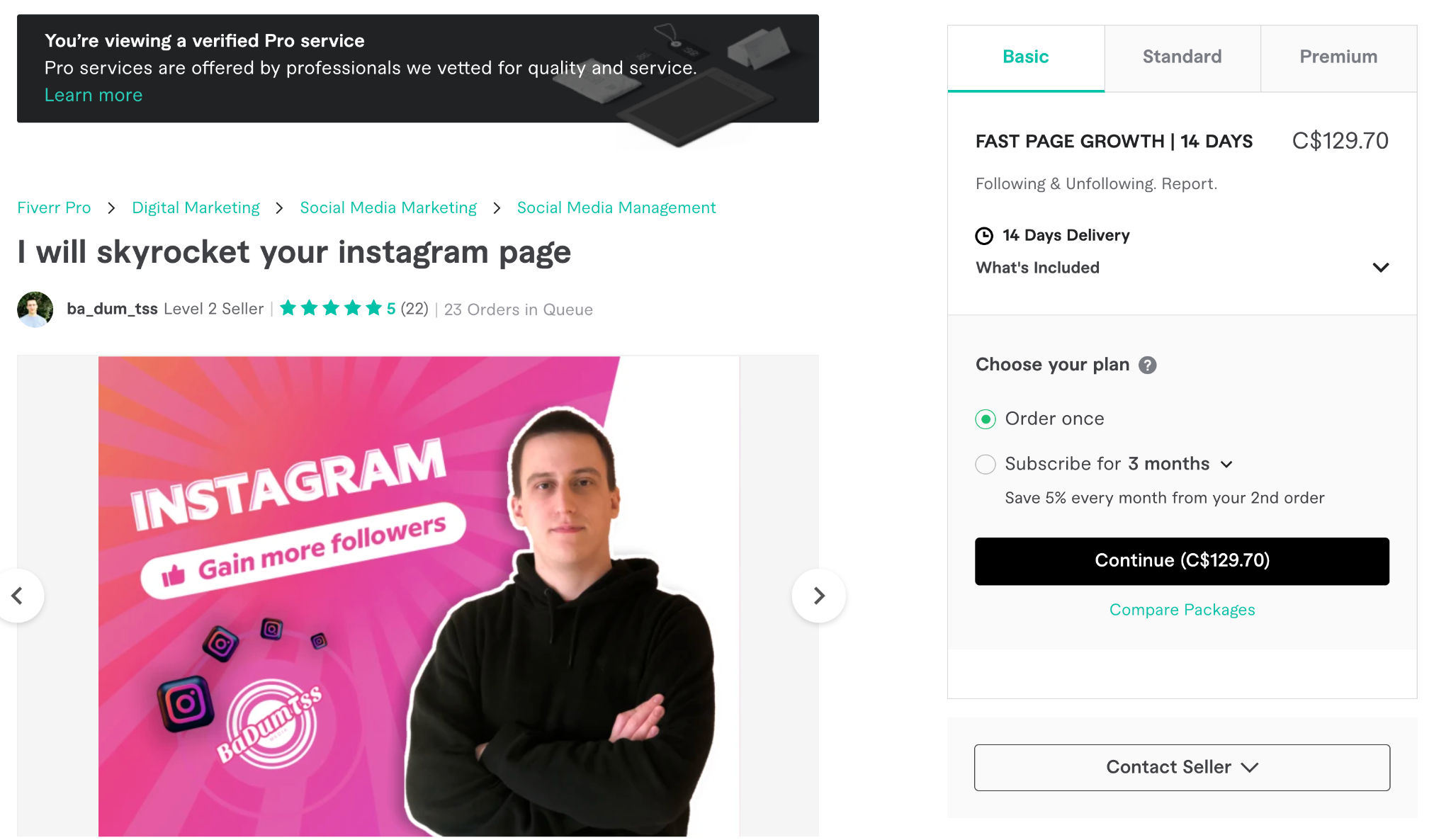 soya_media_ – Multilingual, Multitalented
Meet Sophia from Algeria! She has spent a total of 5 years implementing Instagram growth strategy, 2 of which she has been selling on Fiverr. In that short amount of time, she has already built up a profile with over 300 5-star reviews, and she is a Level Two seller. And, unlike other sellers in this category, she speaks three languages! English, French, and Arabic.
Her work focuses on Personal Brands and Business accounts (including Pinterest), promising real engagement, real fans, and real results. She offers to organically grow your account with proven and tested methods, without bots or fake accounts, and she also provides 24/7 support so that her clients can keep up with her results.
Her 3 plans are based on time spent growing your account – 7 days, 14 days, and 28 days respectively. She too has the Fiverr note broadcasting that she has an exceptional number of repeat buyers, so find her profile here and get in line before it's too long!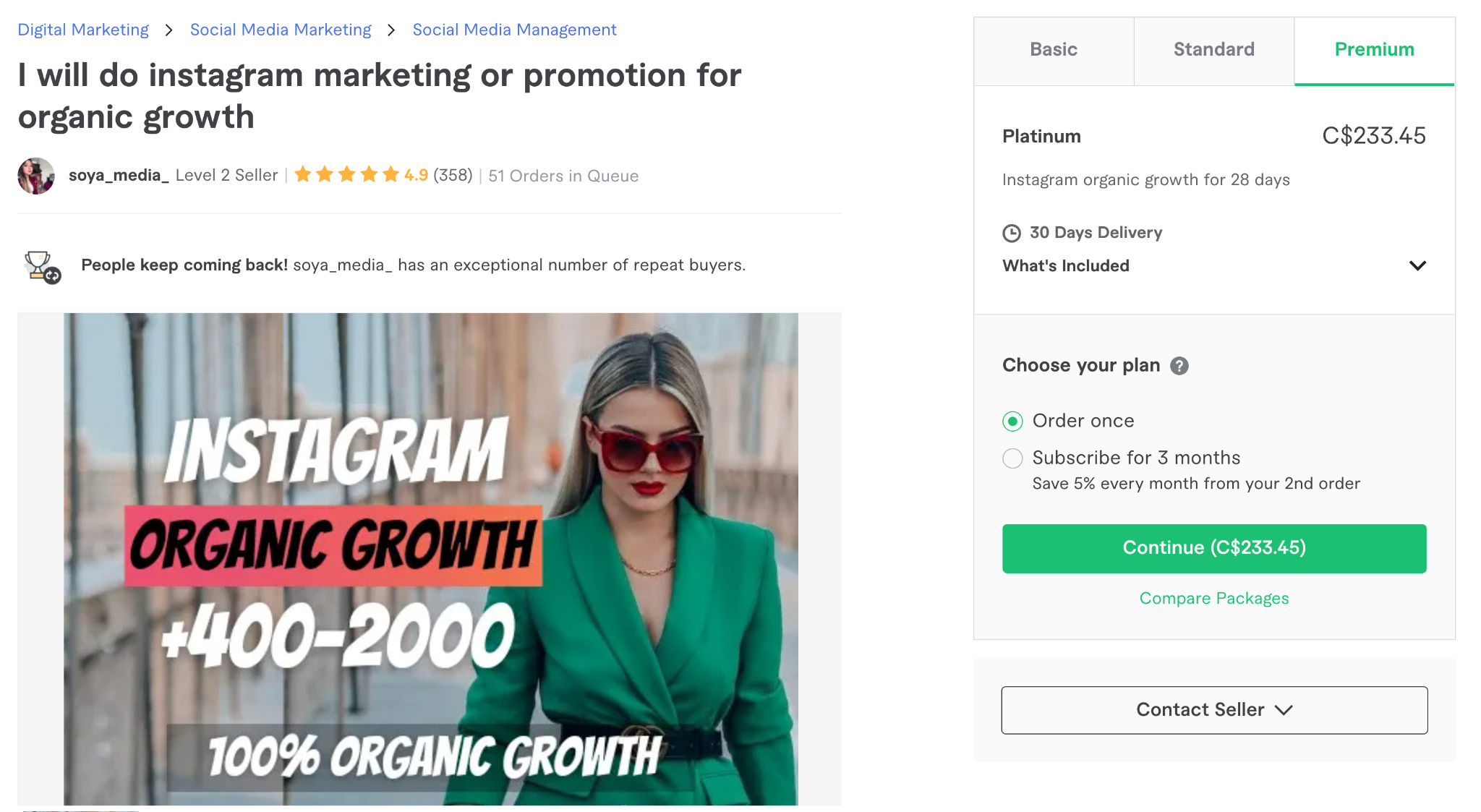 aahna_va – Many Orders in Queue, But Can Still Help You!
Aahna is from India and has been selling on Fiverr since 2018. She is a social media manager with expertise in growing Instagram accounts, as evidenced by her 1300+ 5-star reviews and volume of repeat buyers.
Aahna assures her clients that she will organically and manually grow their Personal Brand or Business Instagram accounts through following users, liking their photos, and unfollowing those who don't engage.
She trusts in her work and values the satisfaction of her clients so much that if their expectations are not met, she will revise her strategy and continue to grow the accounts for extra time and no additional cost. She is offering a music promotion service as well.
Her 3 packages range from 7 to 30 days of Instagram growth management, so she's got you covered no matter your needs. Like the rest of the busy-bee's mentioned in this article, Aahna is popular on Fiverr. She has quite a few orders currently in queue, but that doesn't mean that she can't help you. Check out her Instagram growth gig here!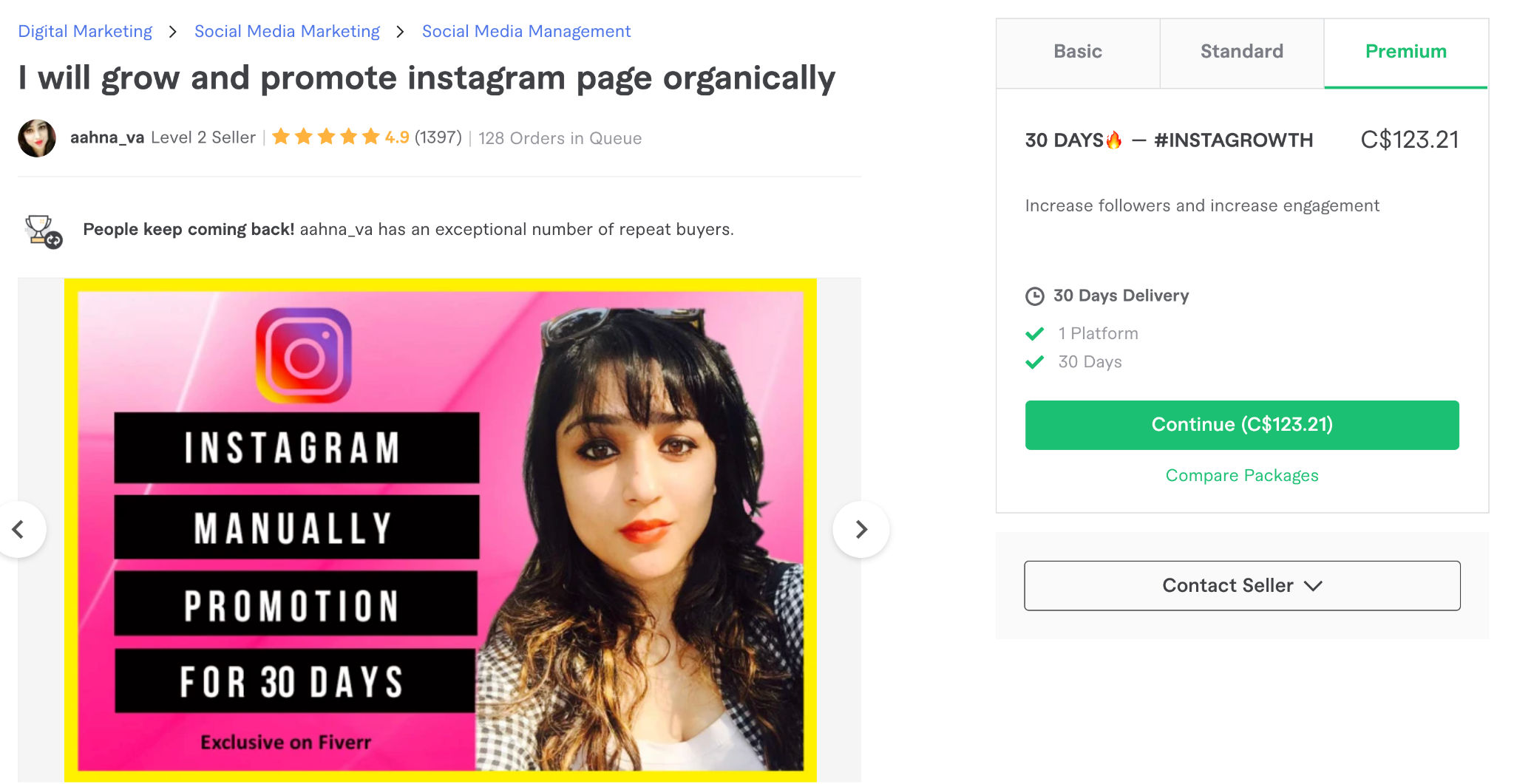 Are Instagram growth services worth it?
Yes, Instagram growth services are indeed worth the time it takes to find the right service and the cost to hire them.
Social media is an integral part of any successful business' marketing strategy in this day in age. Instagram is one of the primary places your customers live and trade, so you must be able to find them there, and provide them an avenue to buy your product or service.
Are there any legit Instagram growth services?
Yes, there are a lot of legit Instagram legit Instagram growth services out there.
I just covered 5 of the top services, but there are pages and pages full of Instagram growth services on Fiverr, and many are flooded with 5-star reviews.