Last Updated on December 27, 2022
Plastiq is a digital payments solution that lets businesses pay their suppliers, pay for inventory, take deliveries faster, manage cash flow better, track payments in real-time, and more.
If you're a business owner looking to streamline your financial processes and improve your cash flow, then Plastiq is worth a look.
However, there are some companies out there, one in particular, that shine just as bright, if not brighter.
Join me in walking through the top Plastiq alternatives, so that you can be as educated as possible when you're eventually faced with choosing a digital payments solution for your business.
What are the best Plastiq alternatives?
Below you'd find our list of the best Plastiq alternatives this year:
1. Melio – Less Expensive & Small Business Specific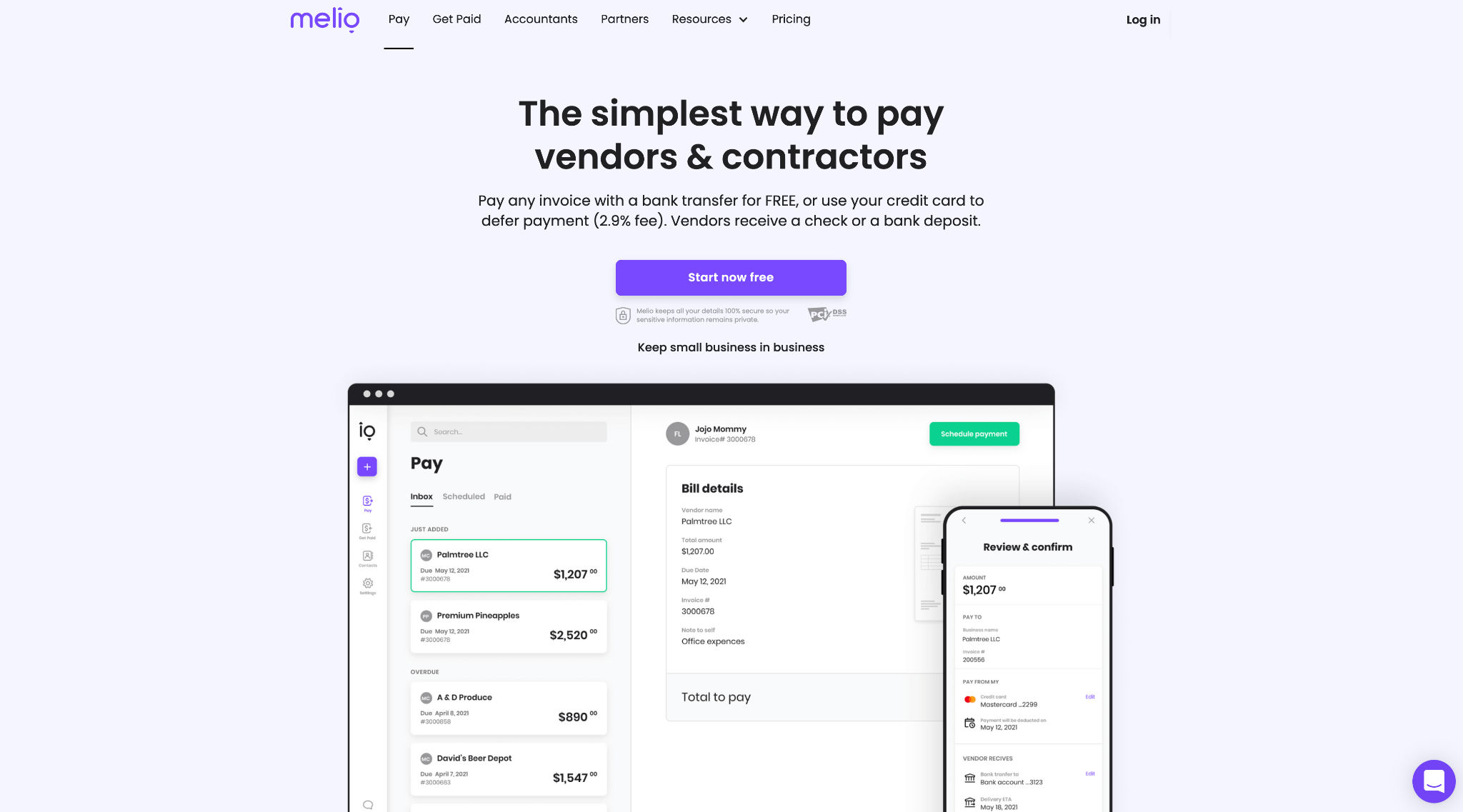 Melio is a digital payments software built for small businesses in the US. They allow these businesses to pay and be paid quickly and simply, and without any of the expected, usual costs.
Melio is tailor made for small businesses in the US. Their primary and sole purpose is to, as stated on their website, "keep small business in business." This is a big competitive advantage of Melio, as Plastiq is spread thin by attempting to service a broader market. Melio is hyper focused on small business, and therefore every decision is made with their best interest in mind.
Melio offers solutions for both accounts payable and accounts receivable processes and procedures. You can pay or be paid via ACH transfer, bank transfer, wire transfer, check, credit, debit, and more.
No more slogging through the unnecessary administrative paperwork and red tape in order to make and receive payments. Your funds will be directly delivered from, and deposited to, your bank account.
An important edge that Melio offers over Plastiq is one that allows you, as a small business owner, to pay customers and clients by your preferred method of payment, regardless of their preference.
For example, if you have a client that wants to be paid via check but you can only pay via credit, then you can do so. Melio will work behind the scenes to take your credit and translate it into a check for your client, and both parties continue on no worse for wear.
This is a prime example of the understanding that Melio has forged through a laser focus on small business.
They understand that you will not always have the ability or time to execute upon a customer request such as paying by check. Maybe you don't have time to get to the post office. Maybe the cash that you need to pay won't hit your bank account until next week, so you must pay by credit. Melio understands, and they've built this capability for you.
Their pricing models are similar, but Melio has an edge. Melio charges 2.9% for credit transactions, whereas Plastiq charges 2.85% for credit and debit transactions. Also, Melio, as opposed to Plastiq, allows the option to have the customer pay this transaction fee.
If you can't tell already, Melio is my pick as the best digital payment solution for small businesses. They have made a tool specifically for you, and they charge you virtually nothing to use it. How can you beat that? Answer: you can't.
2. Tipalti: Award-Winning for Hyper-Growth Businesses
A rising force to be reckoned with in the world of digital payments and a Plastiq alternative is Tipalti.
An important distinction to keep in mind is that Tipalti specializes in accounts payable, whereas Plastiq offers that coupled with accounts receivable capabilities.
If you're simply in the market for an accounts payable solution, then these two tools are a good matchup.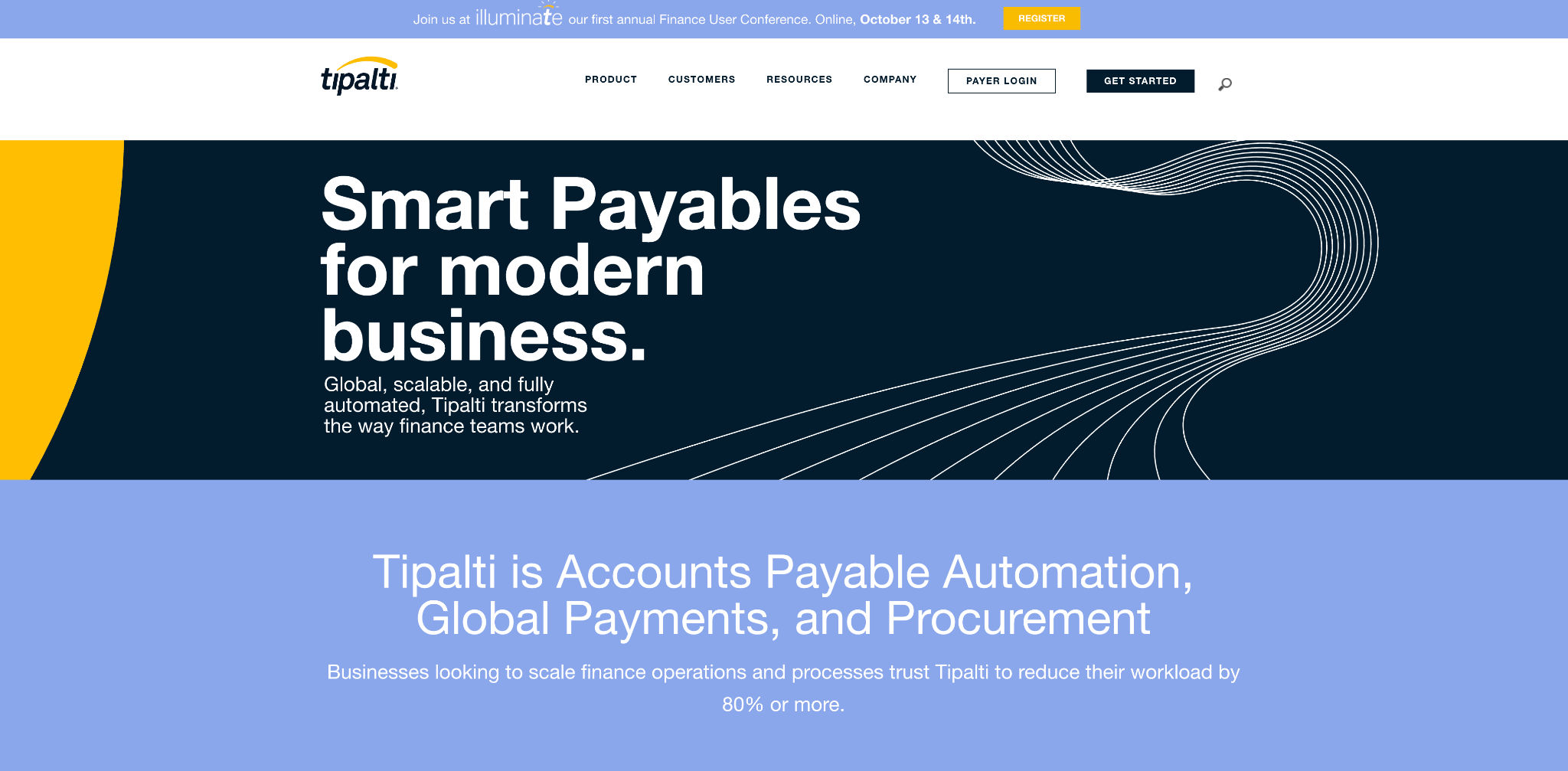 Tipalti is a supplier payment solution that has helped 1,500+ customers pay over 4 million suppliers. They have a 99% retention rate, indicating high customer satisfaction, and they're an award-winning solution specifically built for hyper-growth businesses.
If you are a hyper-growth business, then Global Payments, a capability offered by both Plastiq and Tipalti, is an important consideration. Tipalti probably takes the cake on this one as they allow users to pay suppliers in almost 200 countries, whereas Plastiq allows for only 40.
Tipalti's website is quite limited as it simply consists of one page, which indicates a lack of substance, and they don't provide any pricing information, all of which make me hesitate. With that being said, I appreciate their dedication to ambitious, fast-growing companies, and their early success with clients such as GoDaddy, Vimeo, and Twitch.
3. Ablii: Simple but Limited
At all levels of analysis, Ablii may be the simplest of Plastiq alternatives. Their product is straightforward and their pricing model is concise.
Ablii is a "no-frills" online payments solution for businesses in the US and Canada, which allows for direct payment to and from your bank account.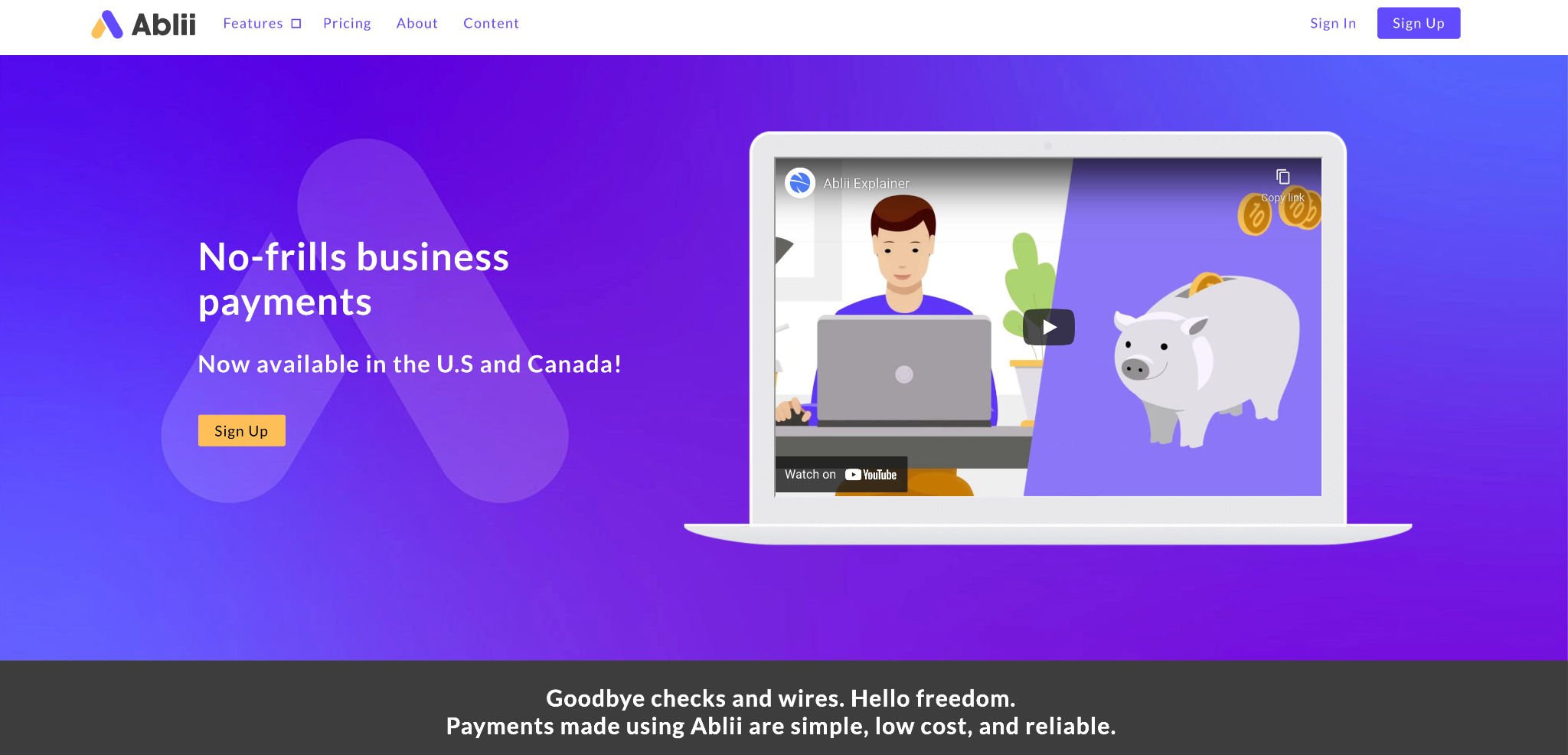 I should repeat – direct payment to and from your bank account. In other words, Ablii doesn't facilitate credit-based transactions. No doubt this is limiting the efficiency and efficacy of their users' financial processes.
They allow you to add and review invoices, request and receive approvals, reconcile accounting records via Quickbooks integration, send and receive money, and more.
Thankfully, their pricing model is easy to digest. There are no sign up fees or monthly subscription rates. Simply pay $0.75 per domestic transaction and $5.00 for cross-border transactions.
Being simple can be, in some cases, an advantage. In others, such as the stage of development of a digital business, it can indicate a lack of maturity or infancy. This tool may make sense for a small portion of businesses doing business without the virtually necessary tool that is credit, but generally speaking, I think Ablii are simply outmatched at this point.
4. Bill.com: More Capabilities for More Money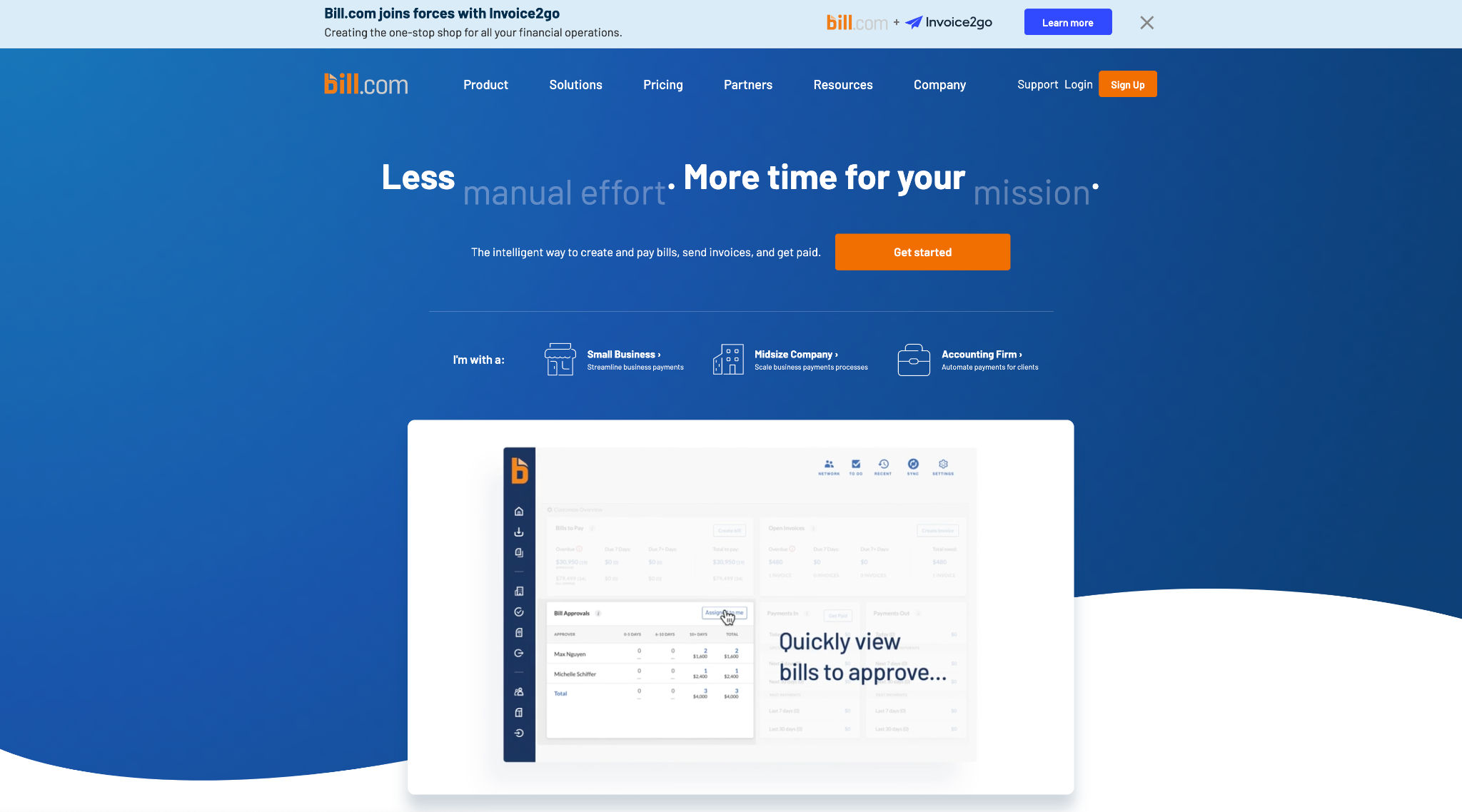 Bill.com is a cloud-based payments solution that facilitates financial transactions for businesses around the world. They have built up their tool and their reputation so as to be a leader in the digital payments industry, with clients such as Quicken, TED Conferences, and Easter Seals.
Bill.com offers a robust tool set which targets small and mid-size businesses, and accounting firms alike. Some capabilities include accounts payable and receivable, credit and expense management, international payments, and integrations with accounting software such as Quickbooks and Xero.
To accompany their robust tool set – a complex pricing model! Business owners around the world, rejoice! The model is tiered, so that depending on the size and scale of your business, you will pay a different monthly subscription rate – anywhere between $39-$69/month, and from there you get into the custom pricing domain. You'll also be faced with various ways of being charged per transaction facilitated by Bill.com.
It cannot be argued that Bill.com is a formidable opponent for any company contending for a place in the digital payments space. They offer a wide range of capabilities and many pricing options for their customers.
Conclusion
As mentioned at the beginning of this article, Melio is my digital payments solution of choice for small businesses, particularly when compared with Plastiq.
This Plastiq alternative is tailor made for small business in the US, and their solution reflects that. It's exactly what a small business owner needs in a digital payment tool, and they charge virtually nothing to use it. What more could a small business owner want?